CD Printers Maintenance Tips
If you've purchased a CD/DVD printer for your business, then you need to know how to maintain it. To get your money's worth and to ensure that the printer continues to operate properly for a long time, you must keep it in perfect working order.
One of the primary concerns that arise after equipment is purchased is how to stay on top of routine maintenance. Like any other piece of equipment, a thermal disc printer also needs attention at regular intervals. In the case of leading thermal CD printers like the Teac Auto P-55/550 or for systems like the Apollo PA7-T PC-Connected Print Station with P55 Thermal Printer, or indeed other similar printers and systems, proper maintenance is an absolute necessity in order to maintain near perfect print quality.
The service required on a thermal CD/DVD printer depends mainly on the model. This can be explained better by looking at a specific printer as a case study. The TEAC P-55 is one of the most popular models on the market, so it's a good case in point as an example to better understand the nuances of maintaining a printer.
The P-55 thermal disc printer comes with four different ribbons and a number of auto loading platforms. These features provide for a variety of choices when it comes to customizing the functionality of the printer to suit specific work or business requirements. The P-55 thermal disc printer can be setup as an auto loading printer or as a manual-feed printer. When combined with a base unit, it becomes part of a full disc burning and printing system. But all this versatility also means more maintenance! However, breathe easy, as it is an easy task.
According to TEAC, the manufacturer of the P-55, for maintenance purposes, these parts of the printer need to be cleaned, and very thoroughly:
* Thermal Print Head needs to be cleaned
* The Platen Roller must be cleaned
* The Guide Plate Roller also requires cleaning
This should be carried out at regular intervals, in fact every time the ribbon is changed. And when should you change the ribbon? After every 500 prints.
Maintenance can also be made much simpler with a P-55 printer cleaning kit. Always use the cleaning products that are specific to that piece of equipment. In the P-55 printer cleaning kit, you get the cleaning solution, applicators, and most importantly, precise step-by-step instructions on how to clean each part of the printer. If you have the impression that the cleaning kit may be expensive, consider that it is a small amount to pay to keep a piece of equipment that cost you more than $7500, in good working order!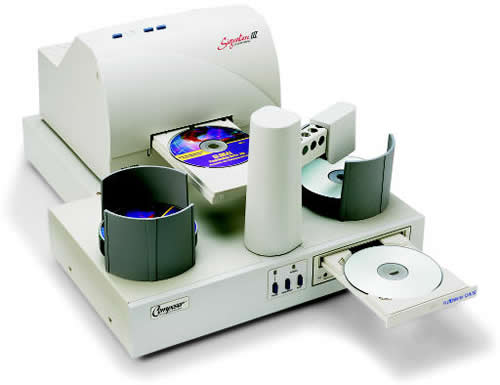 Using the P-55 printer as an example of the maintenance procedure carried out on a thermal CD/DVD printer, we have tried to show how to keep a printer in good working order and how often maintenance needs to be carried out. For all thermal printers like the P-55, there are similar components that require regular cleaning.
Regardless of whether your system is one like the Apollo PA9-P PC-Connected Print Station with the Pro IV Thermal Printer or the CopyPro Lightning 300 Prinstation with the PowerPro IV Printer, all manufacturers recommend cleaning the print heads and the rollers every time the print ribbon is changed, which varies from 500 to 2000 prints depending on the brand and model. Many of the manufacturers also recommend cleaning the platen roller periodically, especially if print quality issues arise.
Usually, you get a printer cleaning kit with the purchase of a new
thermal CD printer
, along with printer ribbons, transfer ribbons etc. The kit makes keeping your printer in perfect working order a breeze, giving you maximum results from your investment.
The writer is a technical consultant with Octave Systems, the leading suppliers of
CD DVD printers
and duplicators.